A young dad, distraught after learning that his 10-day-old son had to get his left hand amputated, ended up resigning from his job as a psychology lecturer. He then focused all his attention on developing a prosthetic arm for his son—an innovation that some health professionals are calling "potentially revolutionary."
Learning that his wife would be giving birth to a baby boy, Ben Ryan was ecstatic. But when the baby was born in March 2015 at the maternity ward in Liverpool's Alder Hey Children's Hospital, the joy soon gave way to concern. The infant suffered from blood clots in his left arm.
"I remember just thinking 'I must be dreaming—this is a nightmare,'" Ryan told BBC. "The consultant in Alder Hey was telling me that almost certainly Sol was going to have to lose his left hand."
And much to the heartbreak of Ben Ryan and Katie Smith, they had to consent to amputate the hand of their newly born child, whom they named Sol, after the solar eclipse that occurred on the day that he was born.
Sol had his left arm amputated just below the elbow at 10 days old.
"It was a very, very black period of time. I couldn't quite believe what was happening," said Ryan. "I just went into emergency mode—I think everyone does. You just deal with it because you have to."
Ryan approached many specialists to get a prosthetic arm for his son. But he faced rejection everywhere, with them saying that Sol was far too young for a prosthesis.
It was likely to be three years before he could be fitted for an electric device. I thought I could do better for my son. By encouraging him to use both arms during this period of early brain development, we believed Sol would become more likely to adopt prosthetics later on," said Ryan, reports the Daily Post.
"Current prosthetic arm technology for infants dates back to the Victorian era in many cases. They are ugly and often rejected early on. Unfortunately, newer technologies are often unsuitable for children under three and there is evidence that the earlier function can be introduced the better," he added.
So, Ryan took matters into his own hands even though he had no idea regarding product design, development, or other technical knowledge required to achieve his dream of building the prosthetic arm.
Incredibly, a few weeks later, Ryan had created the first version of the prosthetic arm; however, the hand kept breaking off. Moreover, it didn't open or close like a real hand, and Sol had already outgrown that.
Ryan didn't give up at this stage. Taking inspiration from how spiders use fluid pressure to move their legs, he quit his job as a psychology lecturer and started to research for ways to develop the prosthetic arm.
The doting father took a scan of Sol's arm and taught himself product design and development with the help of Fusion 360 software. Eventually, he succeeded in manufacturing a bionic arm on a 3D printer.
The new bionic arm has tough rubber fingers and a movable thumb. Sol was able to grab and hold objects by controlling the thumb using his shoulder.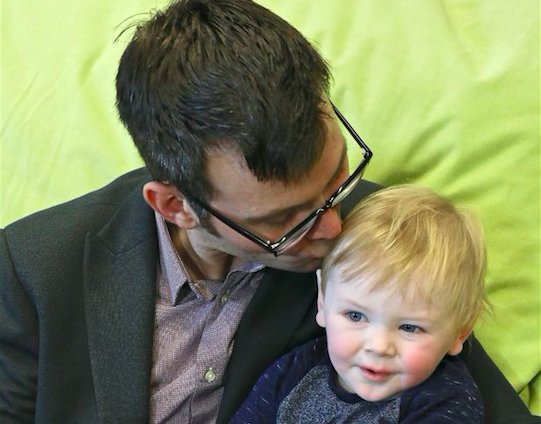 To develop advancement in prosthetic technology," the self-taught design engineer set up a company called Ambionics in 2016.
Paul Sohi from Autodesk was impressed by Ryan's achievement and eventually teamed up with him to work on developing new prosthetic technologies.
"It's been inspiring to work on this innovative and ambitious project," Sohi said. "It is amazing that, despite Ben having no background in product design, he's taught himself enough to create something that will not only help his own son Sol, but potentially lots of others facing the same challenges too."
Ryan is the perfect example of what a man can achieve when he dedicates himself to improving the lives of the people he loves.
"If you have an idea and you have the motivation to do it, you can do it," he said, according to KTVB. "You can change the world."
http://news-af.op-mobile.opera.com/news/detail/382b26eb0a3668e84d4f6b94b3cbfb6e?country=ug&language=en&share=1&client=