Complainant Catherine Marriott says National party's inconclusive determination 'isn't good enough'
Katharine Murphy Political editor
Fri 7 Sep 2018 04.53 BSTFirst published on Fri 7 Sep 2018 04.50 BST
Shares
16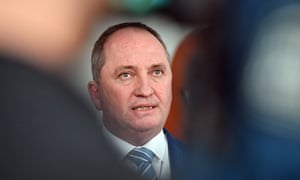 The National party has been unable to reach a determination on a sexual harassment claim against Barnaby Joyce, Catherine Marriott says. Photograph: Mick Tsikas/AAP
An eight-month investigation into a complaint of sexual harassment against the former deputy prime minister Barnaby Joyce has been unable to reach a determination, according to the woman who lodged it, Catherine Marriott.
Marriott issued a statement on Friday saying the New South Wales Nationals had emailed her on Thursday to advise they had "been unable to make a determination about my complaint of sexual harassment against the former leader of that party … due to insufficient evidence".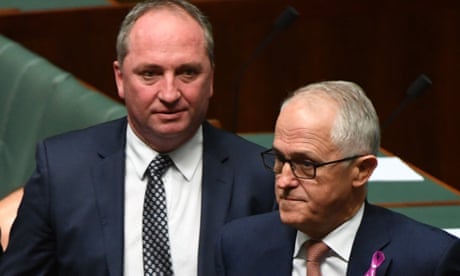 Barnaby Joyce accuses Turnbull of using his affair for 'political advancement'
Read more
Marriott expressed fury with that outcome. "This outcome simply isn't good enough," she said. "I'm extremely disappointed that after eight months of waiting, three trips to the east coast at my own expense to meet with the party, my name and confidential complaint being leaked to the national media, and my personal and professional life being upended, the National party have reached a no-conclusion verdict."
She said while furious with the outcome, she was not surprised, because she did not consider the Nationals to have "the external processes in place to deal with a complaint of sexual harassment by a member of parliament".
Marriott said she believed the complaint – which Joyce has consistently denied – had been handled internally by the state executive "with no professional external expert brought in at any stage to handle the matter".
She said the only positive to emerge from the experience was the National party now had a framework to manage complaints.
"While it has come at enormous personal expense, I was not prepared to walk past this kind of behaviour any longer," Marriott said.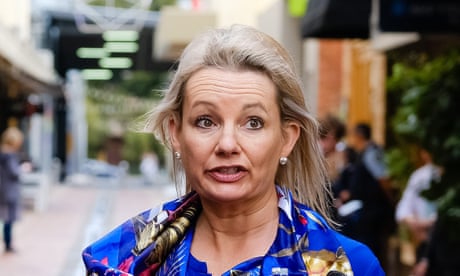 Liberal party should consider quotas for female MPs, Sussan Ley says
Read more
"I am pleased I stood up for what I believed was right and I'm proud I found the courage to make a difference for other people who want to create influence through political circles in future".
Marriott made the complaint against Joyce in February, and it proved the trigger for his resignation from cabinet. Joyce told reporters the complaint had contributed to his decision to step down. "It's quite evident that you can't go to the dispatch box with issues like that surrounding you," he said.
After Marriott lodged her complaint on 20 February, initially with the National party's federal executive, it was leaked to the media a few days later.
At the time Joyce said the claim was "spurious and defamatory" and said he had asked for it to be referred to the police.
Since you're here…
… we have a small favour to ask. The Guardian is editorially independent, meaning we set our own agenda. Our journalism is free from commercial bias and not influenced by billionaire owners, politicians or shareholders. No one edits our Editor. No one steers our opinion. This is important because it enables us to give a voice to the voiceless, challenge the powerful and hold them to account. It's what makes us different to so many others in the media, at a time when factual, honest reporting is critical.
More people are reading the Guardian's independent, investigative journalism than ever but advertising revenues across the media are falling fast. And unlike many news organisations, we haven't put up a paywall – we want to keep our journalism as open as we can. So you can see why we need to ask for your help. We do it because we believe our perspective matters – because it might well be your perspective, too.
https://www.theguardian.com/australia-news/2018/sep/07/barnaby-joyce-sexual-harassment-investigation-unable-reach-determination