The Bodyguard finale saw David Budd (Richard Madden) bloodied but not bowed
Hit BBC drama Bodyguard kept an average 10.4 million viewers on tenterhooks as the series drew to a close on Sunday.
The audience reached its peak - 11 million - in its final five minutes.
The overnight ratings make the show - the brainchild of Line of Duty creator Jed Mercurio - the most watched drama of the year so far.
In fact, it is the biggest overnight drama figure since 10.5 million saw Downton Abbey's series two finale in November 2011.
Skip Instagram post by maddenrichard
End of Instagram post by maddenrichard
No BBC drama has drawn a bigger audience since Doctor Who, whose Christmas Day episode in 2008 was seen by 11.7 million people.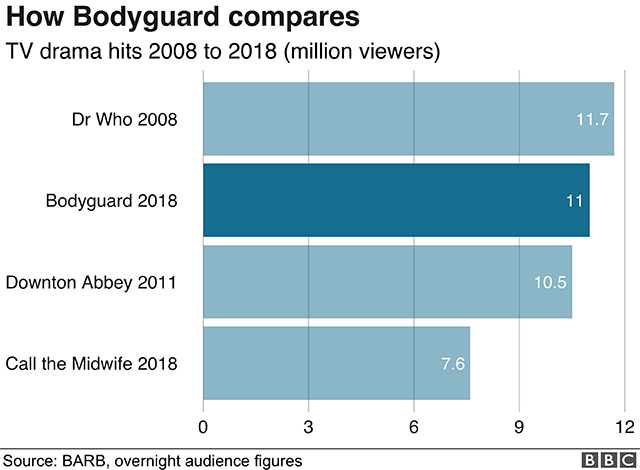 The most watched programme of 2018 so far is ITV's broadcast of England's World Cup semi-final against Croatia, which drew an average audience of 24.3 million.
That figure did not take into account the number of people watching in pubs or on outdoor big screens.
On the iPlayer, episode one of The Bodyguard had received 7.3m requests by Monday lunchtime, a record for any programme on the BBC's catch-up service.
The series finale helped drive BBC iPlayer's biggest day ever with over 12.6m requests on Sunday.
Second series?
Without giving anything away, it's fair to say the Bodyguard finale served up a big helping of shock and suspense.
Writer Jed Mercurio told the BBC he was "humbled, delighted and grateful" at the show's success and credited "the magnetism of the leads".
He added: "I don't think you can plan for success, all you can do is create something you think people will be interested in."
On talk of a second series, he said: "We're just starting those talks, it's still too early to say."
Star Richard Madden - who played the show's ex-soldier turned protection officer David Budd - retweeted a thank you from the BBC to everyone who was watching the "epic finale".
Anjli Mohindra, who played suicide bomber Nadia, praised Mercurio for putting so many female actors in powerful roles in the show.
"I do believe Jed Mercurio wrote a list of those roles as gender neutral and the right person with the right energy got the job," she told the BBC.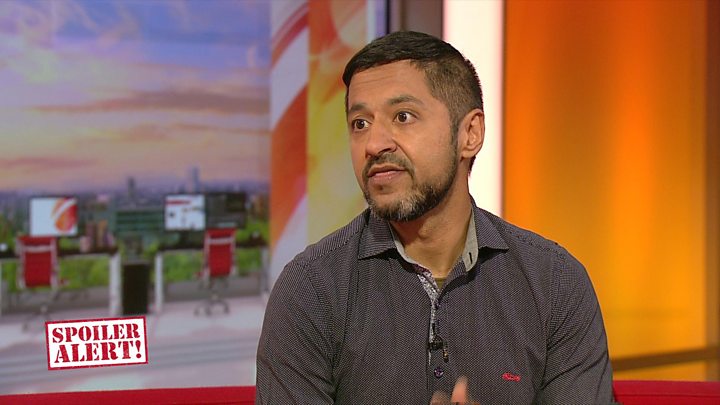 Media captionBodyguard actor Ash Tandon, who played DCI Sharma, on whether the series will return
Director John Strickland had whipped up fans ahead of the broadcast by tweeting lyrics from Frank Sinatra's My Way.
He posted: "For what is a man, what has he got? If not himself, then he has naught. To say the things he truly feels and not the words of one who kneels.
"The record shows he took the blows and did it his way."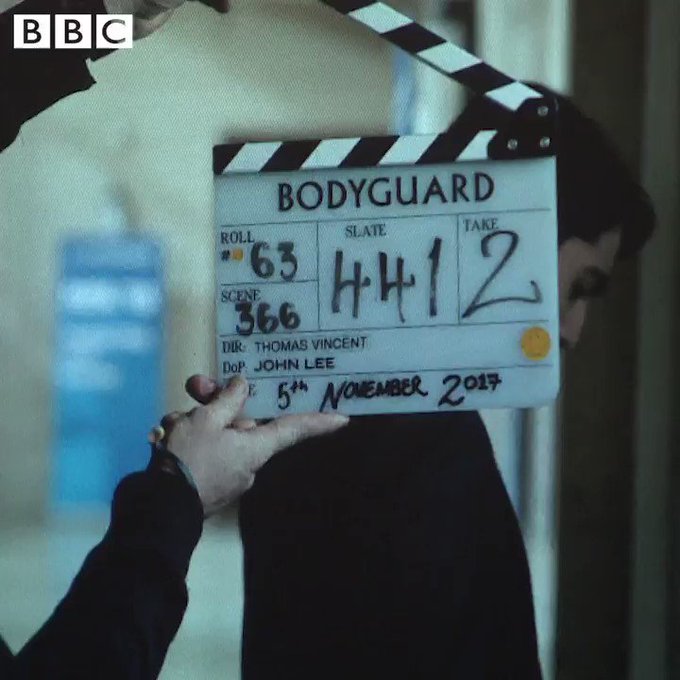 157 crew.
88 shoot days.
56 cast.
23 stunt performers.
6 episodes.
2 directors.
1 writer.
1 epic finale.

Thanks for watching #Bodyguard on @BBCOne.
End of Twitter post by @BBCOne

Mercurio also offered his thanks on Twitter to the show's makers, stars and fans.
Skip Twitter post by @jed_mercurio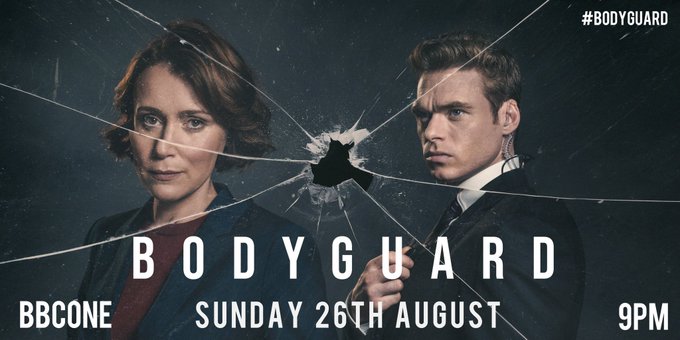 Many thanks to the entire production team of #Bodyguard @worldprods @BBCOne @_richardmadden @Misskeeleyhawes and to our viewers for a fantastic response to the series
End of Twitter post by @jed_mercurio

The Line of Duty writer also found time to set his followers right over some "Bodyguard pedantry".
Skip Twitter post 2 by @jed_mercurio
#Bodyguard pedantry - It's only in matters of police professional standards that officers are interviewed by someone at least one rank senior. If an officer has been arrested for a criminal offence, they're treated like anyone else.
End of Twitter post 2 by @jed_mercurio

The director of BBC content, Charlotte Moore, praised the finale for the way it "gripped the nation and got everyone talking... in a display of masterful storytelling".
Simon Heath the CEO and creative director of World Productions said: "At a time when we're told that linear TV is dying, it's been thrilling to see the number of viewers flocking to watch Bodyguard live. We're so grateful for all their support."
So what did the critics make of it all?
Sara Wallis, Daily Mirror
"If the nation's heart rate could have been monitored during the mind-blowing finale of BBC1's Bodyguard, it would have been off the scale."
Andy Halls, The Sun
"There were moments last night where, for a good 30 seconds or so, I genuinely held my breath... Don't get me wrong, there were moments of genuinely ludicrous action... But is it the best new drama we've had in years and the best thing on TV in 2018? Yes, ma'am."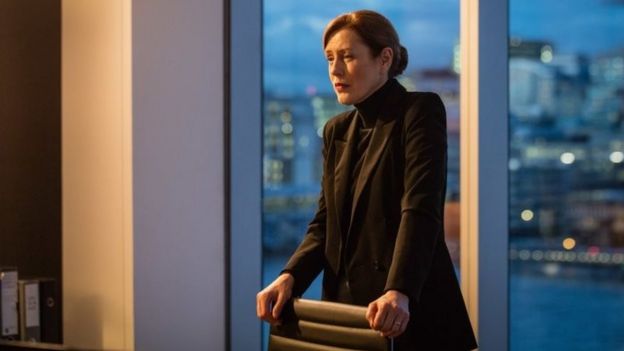 Image captionWas the role of Gina McKee's character Comm Anne Sampson among the loose ends?
Jan Moir, Daily Mail
"There is a fine line between great drama and absurdity, and there were moments when Bodyguard and its bloodied Caped Crusader nearly fell into total farce. Yet it never did. The tense scenes managed to be both gripping and touching."
Bryony Gordon, Daily Telegraph
"Watching the final episode unfold felt a bit like witnessing a grade-A student open up their envelope on exam results day to find a string of Bs. It had tried too hard to impress, and ended up collapsing under the weight of its own expectations."
Carol Midgley, The Times
"Hallelujah for that last cracking 10 minutes of Bodyguard. Because up until then - sorry - I was finding this climax a touch underwhelming. There were many plot holes here but this was event TV and Mercurio, skilled at wrongfooting his viewers, gave us two final twists."
Lucy Mangan, The Guardian
"It has all been a retro-rush. Weekly episodes parcelled out like old times. Cliffhangers you talked about next day by the new watercooler, Twitter."
Mike Ward, Daily Express
"Bear in mind the story still has several tantalising loose ends... Not wishing to put pressure on Mercurio, but series two can't come quickly enough."
Bodyguard has also been a major talking point on social media, with many users wondering about obscure story points and dangling plot threads.
Skip Twitter post by @IanHyde1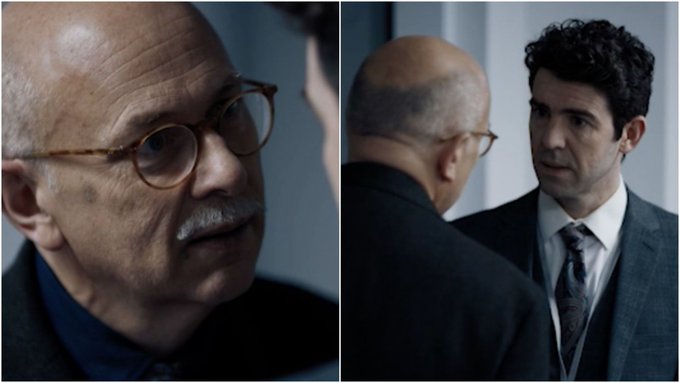 So the one of the main unanswered questions for me... What were these two up to? #Bodyguard
End of Twitter post by @IanHyde1
Skip Twitter post by @GilesChesher
I have one question. Is Julia Montague still alive? #bodyguard
End of Twitter post by @GilesChesher
Skip Twitter post by @vodkaangel22
Ange of the North@vodkaangel22

Did I miss something? I thought he hid the kompromat in his boiler. At no point did I see him bury it!! #Bodyguard
End of Twitter post by @vodkaangel22
Some also felt the final episode - which went out at 21:00 on BBC One on Sunday - did not live up to what had gone before it.
Skip Twitter post by @hillseee
Why is everyone raving about #Bodyguard and not about #KillingEve? The latter is far superior!
End of Twitter post by @hillseee
Poet Pam Ayres, though, spoke for the majority of viewers after the series came to an end.
Skip Twitter post by @PamAyres
So that's it, for #Bodyguard,
Those slick dramatic scenes,
Despondent, I shall go
and blow myself to smithereens.
End of Twitter post by @PamAyres
Line of Duty star Vicky McClure, meanwhile, appreciated the trailer for the show's upcoming fifth season that aired after Bodyguard finished.
Skip Twitter post by @Vicky_McClure
Congratulations @jed_mercurio & everyone involved in #Bodyguard You had the nation gripped!!
Cheeky little @Line_of_duty series 5 trailer after...nice touch @BBCOne @worldprods
Right up early...got to get to the root of it!!
End of Twitter post by @Vicky_McClure
All six episodes of series one of Bodyguard are available on BBC iPlayer in the UK for another five months.

Follow us on Facebook, on Twitter @BBCNewsEnts, or on Instagram at bbcnewsents. If you have a story suggestion email entertainment.news@bbc.co.uk.
https://www.bbc.com/news/entertainment-arts-45622655