Talk about going above and beyond with one's duties, this earnest plumber from the Acton Municipal Utility District went below and under—literally submerged headfirst—into a muddy pit to fix a 1-inch broken pipe that had burst. When his photo was shared online, it made a huge splash, and the hardworking plumber became an internet sensation overnight.
When Jimmie Cox, a utility worker in his 20s from Fort Worth, Texas, was called on by Andrea Adams to fix a broken water line one day in 2016, he didn't know he would soon become an internet star.
Upon arriving at Adams's place, Cox found water shooting out of a 5-foot (about 1.5-meter) hole near her front driveway. It was a mess! The water was muddy, spewing all over, and Adams was running around.
Cox went under and tried to stop the leak. "The hole was about five-and-a-half foot deep," he told WFAA.
"I wasn't even able to get the clampers, so we had to cut it and put a valve on there when it was underwater," he said.
So, he went above and beyond to solve this situation. He plunged himself into the pool of muddy water again—headfirst.
"You basically start holding your breath and if stuff starts going up your nose that is too bad," Cox told Inside Edition.
When Adams saw Cox "snorkeling" in the muddy hole, submerged from the waist up, she just couldn't believe what she was seeing. She said: "When I walked back outside, the kid was in there."
Adams was overwhelmed at the worker's dedication and took a photo of Cox jumping into the murky abyss.
Adams asked Cox if she could take a photo of him, because her husband surely wouldn't believe her if she told him what happened in their front yard. Then, Adams posted the photo on Facebook, and it became a hit.
"Then, I posted the photo to Facebook, and within two hours, people in Brazil were commenting," Adams said.
Cox couldn't believe how much attention he was suddenly receiving. Even show host Mike Rowe, from Dirty Jobs, called him. He said: "Tell me that was a water line, because if that was a sewer line I'm going to have to buy you a whole case of beers."
Luckily, this plumbing job didn't involve a sewer line.
Cox told Rowe: "It feels pretty crazy that that many people are staring a picture of my butt."
Cox's story even got the attention of jeans company Wrangler, because in the photo, the utility worker was wearing a pair of Wrangler jeans. "Now this is an #EverydayHero. Keep up the good work, buddy, & expect to see some #WranglerJeans coming your way," Wrangler Jeans tweeted.
To reward Cox's dedication at work, Wrangler offered him a free year's supply of jeans!
Later on in the year, when Wrangler hosted Jeansboro Day, the company even invited Cox to be their guest of honor. At the event commemorating the city's denim history, Greensboro Mayor Nancy Vaughan presented Cox the key to the city.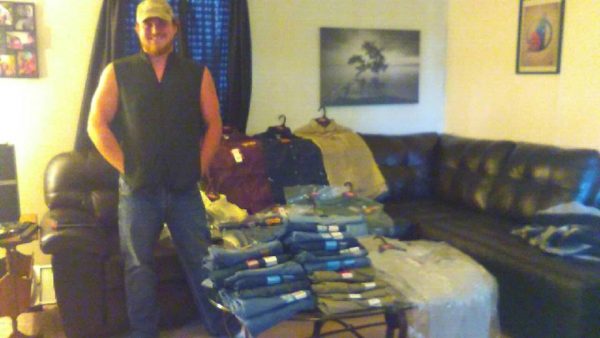 But that's not the end of the surprises. Inside Edition flew him to New York, where a stylist helped him pick out new clothes, in addition, he got his hair styled, beard trimmed, and enjoyed a relaxing spa session.
It looks like going that extra mile paid off very well! But as Cox humbly put it, "you gotta do what you gotta do."
https://www.theepochtimes.com/woman-looks-out-of-window-to-check-on-hired-plumber-what-she-captured-goes-viral_3032681.html